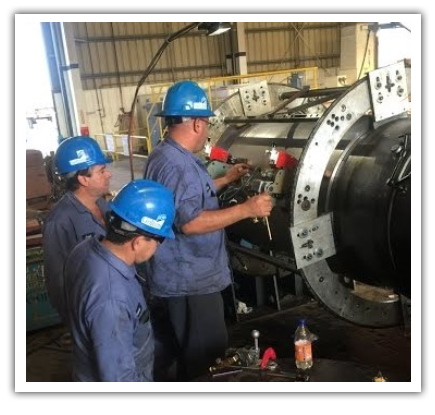 SHINGARE (SIPL) has been providing our high demand, specialized in-Situ machining services anywhere in the world 24 hours a day 365 days a year. Our services include a full range of large-scale and small-scale specialized in-situ machining tools to handle almost any challenge our customers present.

Most Industrial Services demands for on-site machining to cut down time and cost on their projects or maintenance activities so that they won't have to bring out their components to a machine shop. SIPL, with its wide range of Portable On-site Machining equipment, delivers such services adding value to our clients.

Apart from On-site machining we are also engaged in tube cleaning services, bolting solutions etc.
In-Situ Machining activities we provide:
» Pipe Cutting & Beveling
» Pipe End Preparation
» Flange Facing,
Our machines are powered Electrically, Pneumatically and Hydraulically which can be utilized as per application. We have an expert team that are ever trained in machining of sealing surfaces of pressure vessels, RTJ grove surfaces, hub, front and rear surfaces of heat exchanger, etc.
In-Situ Machining activities we provide:
» Re-facing of main stream inlet flanges, Heat exchanger components, repairing ring grooves or cutting new grooves.
» Facing and beveling of pipe for sealing and weld prep, raised face and phonographic finish flanges, Re-facing of ship hatch sealing surfaces.
» Re-machining of rotary crane bearing surfaces, Wind tower section flange milling, Ship thruster mount facing,